Information for Delegates/Chairs/Speakers
Information for Delegates
1.Registration desk
Date
Open hours
Venue
Wed. Nov. 27
8:00~16:30
Entrance lobby
2F Kumamoto-Jo Hall
Thu. Nov. 28
8:00~18:30
Fri. Nov. 29
8:30~14:00
Registration fee:

General(Member / Non-Member)JPY 12,000
Student(Member / Non-Member)JPY 6,000(Student's identification card is required)
2.Abstract book
We sell Abstract book at the JSAR desk. JPY 6,000 (tax not included)
3.Cloak
Date
Open hours
Location
Wed. Nov. 27
8:00~18:00
Entrance lobby
2F Kumamoto-Jo Hall
Thu. Nov. 28
8:00~20:30
Fri. Nov. 29
8:30~16:00
※Please kindly note that the valuables and umbrellas cannot be accepted.
4.Luncheon Seminar
Ticket Distribution
Date
Open hours
Location
Wed. Nov. 27
8:00~11:30
Entrance lobby
2F Kumamoto-Jo Hall
Thu. Nov. 28
8:00~11:30
Fri. Nov. 29
8:30~11:30
Due to the limited number of meals, tickets will be distributed during the time of the listed above on a first-come, first-served basis.
※You can exchange the luncheon seminar tickets to the boxed meals which will be provided by cosponsoring companies or groups.
※The tickets for each seminar will be distributed at the day each seminar will be held.
※Please kindly note that luncheon seminar tickets will be invalid 5 mins after the seminar starts and the boxed meals will be distributed to the participants who have no tickets.
6.Exhibition
Exhibition by the companies and NGO/NPO will be held in the Poster and Exhibition Room, Conference Rooms A2-A3.
7.Social event
Reception
Date:

Wed. Nov. 27

Time:

19:00~21:00

Venue:

LAZOR GARDEN KUMAMOTO
(3-50, Sakuramachi, Chuo-ku, Kumamoto-city, Kumamoto, 860-0805)

Fee:

JPY 5,000 (On-site)
8.If you get sick
When you are not feeling well, please tell the staff nearby or come to the Secretariat office. (3F Conference Room H2)
9.Others
33rd JSAR is non-smoking congress and smoking is prohibited in all area of the venue.
Please note that the use of any recording device, either audio or video, and taking of photographs are not permitted.
Please be sure to turn off your cell phone or set it to silent mode.
Instructions for Chairpersons
All chairpersons are requested to come to the Chairperson Check-in Desk and be seated at the "Next chairpersons' seat" (the front row on the right side) of the session room no later than 10 minutes prior to the beginning of your moderating session.
All chairpersons are asked to ensure that all sessions start on time and finish punctually as scheduled. There is no call to start the session for moderators / chairpersons. Please make sure that you start and finish your session on time. Please remind the overtalkative presenters of their allocated time.
The time-keeping equipment is prepared on the moderators / chairpersons' desk and podium.
Instructions for Oral Presenters
Please submit your presentation data 30 mins prior to your session, and be seated on the "Next Speaker's seat" (the front row on the left side) 10 mins before your presentation starts.
PC presentation manual
Please visit the PC Center to submit your presentation data.
Only Windows PCs are available in presentations.
If you use a Macintosh, you must bring your own computer with you.
To avoid computer viruses, please scan all your presentation files beforehand with updated anti-virus software.
Those who bring their own PC for presentation are also required to check the data at the PC center.
*On the podium, there are monitor and mouse for you to operate your presentation.
Media:
Bring your presentation data on a Windows-readable USB flash memory or CD-R to PC Center.
Please submit media or your own laptop on which your presentation data is saved, and preview on a PC to check if your slides run properly.
If you are going to use your own PC for the presentation, bring your PC to the PC Center as well for checking purpose.
※Please be assured that the secretariat of the Congress will completely delete the submitted data after the session.
Presentation Data:
Upon preparing your presentation data, please keep in mind the following:
Create or edit your presentation data using Windows OS/PowerPoint.
Session room PCs at the meeting venue run Windows & PowerPoint 2010/2013/2016 only.
Please use the following fonts to avoid character corruption: Century, Century Gothic
Make sure CD-R is finalized (i.e. closing the ongoing session) when copying your presentation file to CD-R.
Be careful and do not forget to finalize your CD-R, otherwise the presentation file on the CD-R would not open on other PCs than you used to create the file, making it impossible to use the file in presentation.
Only Windows formats are acceptable for CD-R and USB flash memory. Be advised that Macintosh formats are not supported on the PCs provided on site.
Save only a single final version of your presentation file on CD-R or USB and make sure there is no other files or data on the media.
For Presenters Bringing Your Own Laptop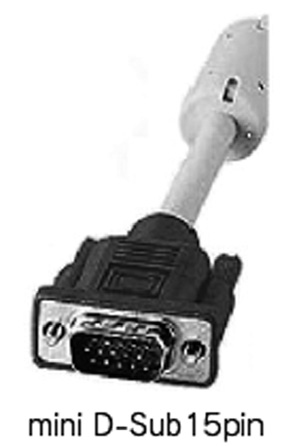 We suggest that you bring your own laptop if you use video in presentation. Those who wish to use Macintosh are requested to bring their own machines.
Make sure to prepare and bring backup of presentation data on CD-R or USB flash memory, even if you are using your own machine for your presentation.
This is applicable especially to Macbook Air users. AC Adapters for your own PCs should be prepared by yourselves.
Only Mini D-sub 15 pin is available for cable connection on site. Make sure your own machine supports this type of connection, or prepare a right connector to hook up your laptop.
Macintosh users are requested to bring connectors which came with their own machines.
Equipment for Presentation:
Only computers can be used for presentation. OHP nor video cannot be used.
A monitor and a mouse are provided on the podium. Speakers are requested to operate by themselves.
To avoid technical issues in session rooms, bring and use your own PC if your PowerPoint presentation has any attached files or links to external data (i.e. pictures, videos, and/or graphs).
Instructions for Poster presenters
Secretariat prepares poster board, pins, and poster numbers.
There is designated mounting time, and you are asked to complete poster mounting by allotted time below.
Posters must be brought to the congress and not mailed as the secretariat cannot be responsible for loss or mishandling.
Audio-visual equipment cannot be used.
Poster Mounting & Viewing
Mounting

Wed. Nov. 27 9:00~17:00

Viewing

Wed. Nov. 27 9:00~17:00
Thu. Nov. 28 9:00~10:30/12:30~15:20/18:30~19:30
Fri. Nov. 29 9:00~11:00
Presentation
It is a free discussion style, so please wait in front of your poster during the following presentation time.
Clinical

Odd Number:Thu. Nov. 28 10:30~11:30
Even Number:Thu. Nov. 28 11:30~12:30

Basic Science

Odd Number:Thu. Nov. 28 15:20~16:05
Even Number:Thu. Nov. 28 16:05~16:50

Social Science

Thu. Nov. 28 17:00~18:30
Poster Removal
Fri. Nov. 29 11:00~12:00
* Any posters remaining on the boards after the removal time will be discarded by the secretariat.
Poster size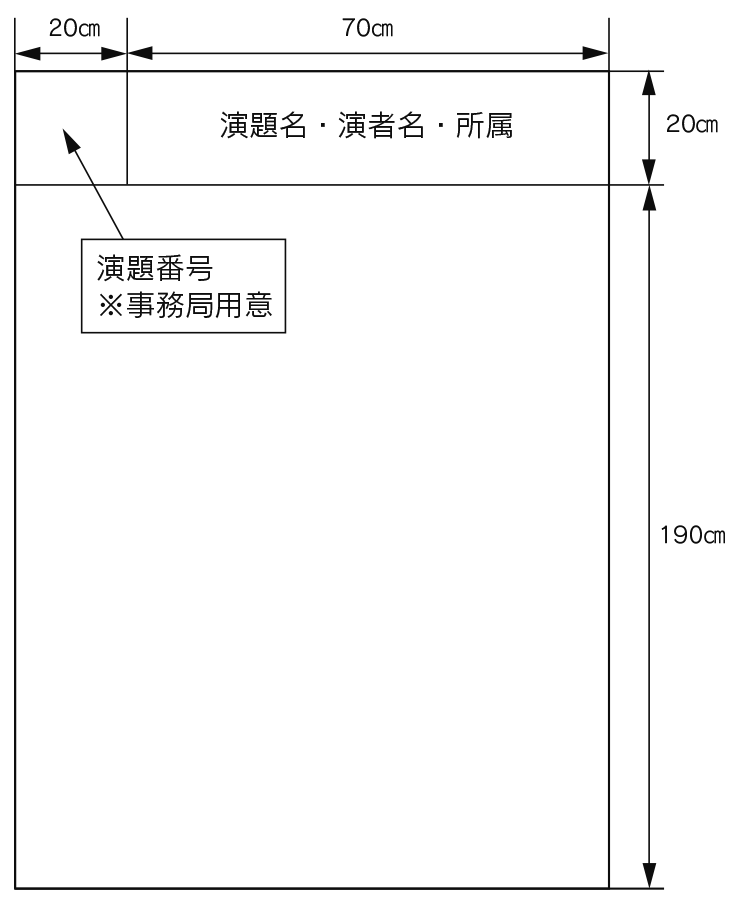 Poster board size: H210cm × W90cm
Presenters should prepare a title section (H20cm × W70cm) including a subject, name(s), presenter(s) and affiliation(s).
Poster numbers (H20cm × W20cm) will be prepared by the secretariat.
The size for the poster is approximately 190cm in lengths×90cm in width.
The pins for poster attachment are prepared on each poster panel. We prepare ribbons for poster presenters, so please wear them in a place that is easy to see and make a presentation.