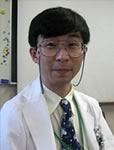 [Chairman of ACPID2018]
Hiroyuki Moriuchi, M.D., Ph.D.
Professor, Department of Pediatrics, Nagasaki University
Graduate School of Biomedical Sciences & School of Tropical Medicine
and Global Health Professor and Head, Nagasaki University Hospital
Dear Friends and Colleagues,
"Global Prospects, Local Progress and Eternal Promise for Children's Health"
We will hold the first-ever joint meeting of the 9th Asian Congress of Pediatric Infectious Diseases (ACPID) (President: Hiroyuki Moriuchi, MD) and the 50th Japanese Society for Pediatric Infectious Diseases (JSPID) (President: Shoichi Ohga, MD; Vice President: Kenji Okada, MD) in 2018. It is our great pleasure and honor to welcome you to such a special event in this lovely location of Fukuoka, where you will find the fascinating culture, beautiful nature, delicious food and warm hospitality.
Global Prospects: Infectious diseases are a global problem. A variety of pathogens have been threatening children across borders. Pediatricians and researchers should investigate methods of controlling such diseases from a global perspective.
Local Progress: Concentrated efforts are needed in endemic areas of the respective infectious diseases, producing significant results that will have an impact on global strategies against these diseases.
Eternal Promise: Children are our greatest treasures and a symbol of a bright future. Safeguarding them against infectious diseases and other troubles is the promise we should keep.
We hope to see you in Fukuoka in 2018!