Company Outline
Company Name: Convention Linkage, Inc.
Established in July 3, 1996
Capital: JPY 50,000,000
CEO: HIRAI, Hiroaki
President: SUNAHARA, Atsuko
Headquarters and Branch Offices
Headquarters

2 Sanbancho, Chiyoda-ku, Tokyo 102-0075, Japan
Tel: +81-3-3263-8686
Fax: +81-3-3263-8687
Convention Linkage Information

Akihabara Branch

Akihabara Dai Bldg. 4F 1-18-13 Sotokanda, Chiyoda-ku, Tokyo 101-0021, Japan
Tel: +81-3-5297-0230
Fax: +81-3-5297-5955
Email: info@akibahall.jp
URL: http://www.akibahall.jp

Kyobashi Branch

3-1-1 Kyobashi, Chuo-ku, Tokyo 104-0031, Japan
Tel: +81-3-5542-1995
Fax: +81-3-5542-1994
Email: info@tokyo.conventionhall.jp

Kansai Branch

11F, PIAS TOWER, 3-19-3 Toyosaki, Kita-ku, Osaka 531-0072, Japan
Tel: +81-6-6377-2070
Fax: +81-6-6377-2075
Email: cl2@c-linkage.co.jp

Osaka-Minami Branch

2-6 Uehommachi 8-chome, Tennoji-ku, Osaka 543-0001, Japan
Tel: +81-6-6772-6389
Fax: +81-6-6772-7600
Email: info@ih-osaka.jp

Fukuoka Branch

3rd Hakata Kaisei Bldg., Hakata-eki-minami, Hakata-ku, Fukuoka 812-0016, Japan
Tel: +81-92-437-4181
Fax: +81-92-437-4182
Email: cl3@c-linkage.co.jp

Nagoya Branch

Asahi Seimei Bldg., 3-32-20 Sakae, Naka-ku, Nagoya 460-0008, Japan
Tel: +81-52-262-5083
Fax: +81-52-262-5084
Email: cl4@c-linkage.co.jp

Hokkaido Head Office

Hokkaido Bldg., 4-1 Kita2-Jo-Nishi, Chuo-ku, Sapporo 060-0002, Japan
Tel: +81-11-272-2151
Fax: +81-11-272-2152
Email: cl7@c-linkage.co.jp

Nagano Office

Sky Bldg., 1-21-3 Chuo, Matsumoto City, Nagano 390-0811, Japan
Tel: +81-263-34-7045
Fax: +81-263-34-7048
Email: cl8@c-linkage.co.jp

Oita Office

Polaris Funai, 1-3-18 Funai-machi, Oita City, 870-0021, Japan
Tel: +81-97-529-6730
Fax: +81-97-529-6731
Email: cl9@c-linkage.co.jp

Linkage Nagasaki

8F, Okubo Daikokumachi Bldg., 9-22 Daikoku-machi, Nagasaki City, 850-0057, Japan
Tel: +81-95-825-1955
Fax: +81-95-825-1956


Linkage Kyoto

634 Shichikannon-cho, Karasuma-dori Rokkaku-sagaru, Nakagyo-ku, Kyoto 604-8162, Japan
Tel: +81-75-231-6351
Fax: +81-75-231-6354
Email: kyoto@c-linkage.co.jp
URL: http://karasuma.conventionhall.jp

Linkage Tohoku

SS30 Bldg., 4-6-1 Chuo, Aoba-ku, Sendai 980-6020, Japan
Tel: +81-22-722-1657
Fax: +81-22-722-1658


Linkage Hokuriku

Sun Kanazawa Bldg., 1-14-29 Ekinishihonmachi, Kanazawa City, Ishikawa 920-0025, Japan
Tel: +81-76-222-7571
Fax: +81-76-222-7572


Linkage Shanghai

1211 Changde Road, Shanghai 200060, China
Tel: +86-21-5268-1075
Convention and Exhibition Facilities
Services
Planning, Organization, Management, Publicity, and Secretarial duties of International and Domestic Conferences, Exhibitions and Events
Management, Planning, Marketing of Convention and Exhibition Facilities
Interpretation (incl. Simultaneous Interpretation), Translation, Editing and Production
Internet Services: Net Convention® and Net SecretariatTM & Call Center
Specialist & Staff Services
Consultation, Survey, Analysis, Research
Affiliations
ICCA (International Congress and Convention Association, Headquartered in Amsterdam)
IAPCO (International Association of Professional Congress Organisers)
JCCB (Japan Congress and Convention Bureau)
TCVB (Tokyo Convention & Visitors Bureau)
Koriyama Convention Bureau
Nagasaki International Tourism and Convention Association
The Fuji Camber of Commerce and Industry
Japan Institute of Eventology
Banks
The Bank of Tokyo-Mitsubishi UFJ, Ltd. Roppongi Branch
The Bank of Tokyo-Mitsubishi UFJ, Ltd. Osaka Branch
Mizuho Bank, Ltd. Roppongi Branch
Fukuoka Bank Hakata Station East Exit Branch
Major Clients (Governments & Private Sector)
United Nations and their Affiliated Associations
Japanese Government (Ministry of Foreign Affairs, Ministry of Finance, Ministry of Economy Trade and Industry, Ministry of Health, Labour and Welfare, Science and Technology Agency, Ministry of Environment, Ministry of Land, Infrastructure, Transport and Tourism)
Government Auxiliary Organizations
Research & Development Organizations
Local Governments and their Affiliated Associations
Major Clients (Industrial Sector)
Major Computer Hardware/Software Companies
Pharmaceutical Companies
Major Publishers
Telecommunications Companies
Press Companies
Advertising Agencies
Economic Organizations
Major Clients (Academic Sector)
National and Regional Universities/Colleges, and their Research Labs
Academic Associations, International Congress Organizing Committees
Licenses and Qualifications
General Staffing Service is authorized by the Ministry of Health, Labour and Welfare (G 13-04-0383)
Approved as a Consumption-tax free shop for the Ministry of Foreign Affairs establishments abroad
Certified Trust-e site Privacy Statement
Convention Linkage, Inc. in order to smoothly manage events, translation, interpretation, and staffing services, is required to handle private information of clients, translators, interpreters, as well as staff members. We guarantee to place such information at the highest level of our attention and handle with the utmost care.
Our company has joined the "Challenge 25" project, a national campaign led by the Japanese government to prevent further global warming.
Convention Linkage Network in Japan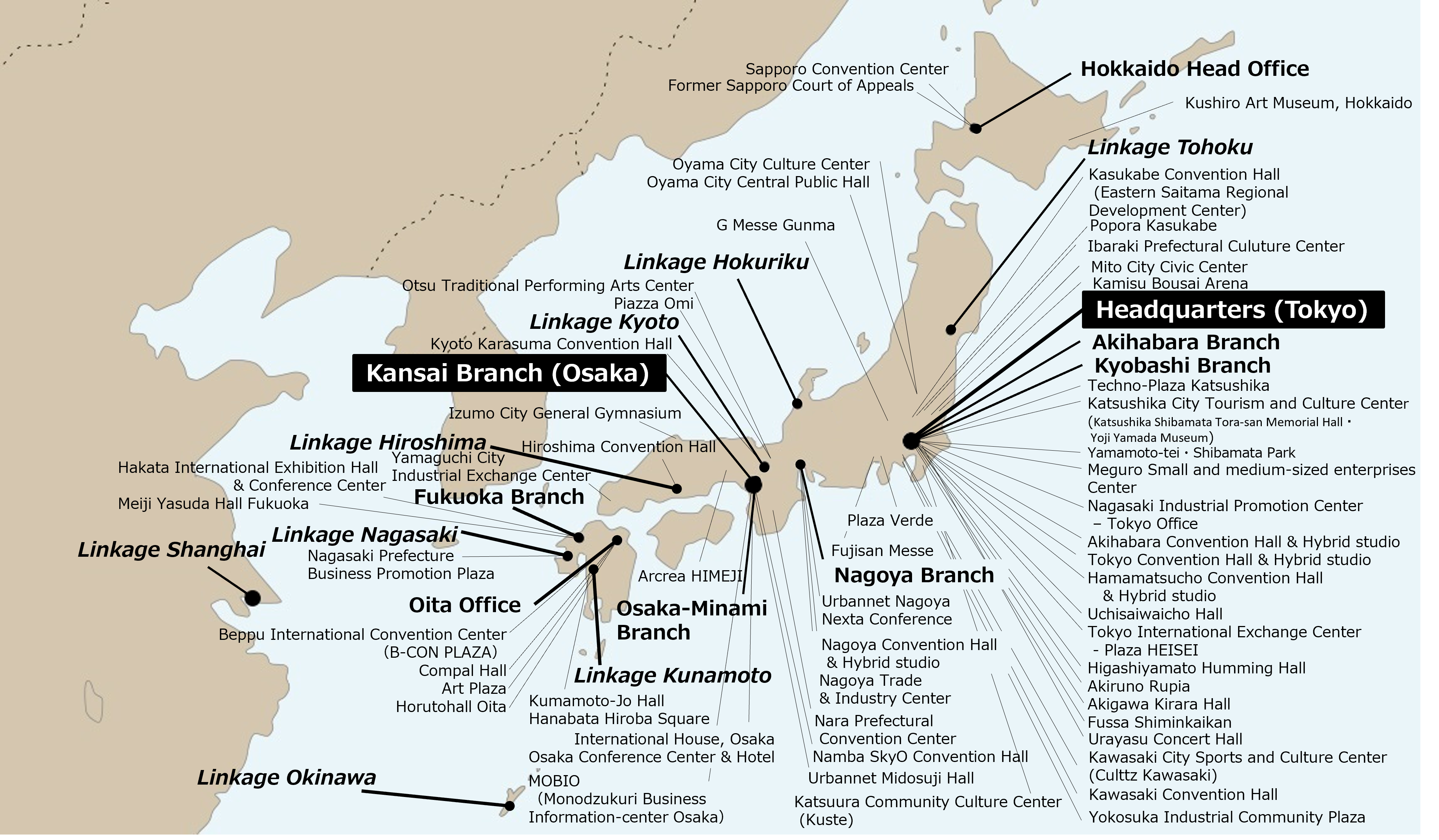 Photos of Buildings and Facilities
| | | | | |
| --- | --- | --- | --- | --- |
| | | | | |
| Sanbancho KS Bldg. | Oita Art Plaza | Beppu Int'l Convention Center (B-CON Plaza) | Fujisanmesse | Tokyo Convention Hall |
| | | | | |
| Compal Hall | Kyoto Karasuma Convention Hall | Monodzukuri Business Information-center Osaka (MOBIO) | Nagasaki Business Promotion Plaza | Tokyo International Exchange Center - Plaza HEISEI |
| | | | | |
| Akihabara Convention Hall | Oyama City Culture Center | Sapporo Convention Center | Uchisaiwaicho Hall | International House, Osaka |