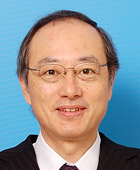 Dear friends and colleagues,
On behalf of the organizing committee of the 52nd Japan Epilepsy Society, it is with great pleasure to invite you to Yokohama from October 25th - 27th 2018. This congress has been organized by the Japan Epilepsy Society under the endorsement of the International League Against Epilepsy.
We, along with our Scientific Organizing Committee and Scientific Advisory Committee colleagues, are currently in the process of finalizing the scientific programs which will be of great interest to all, encompassing recent scientific, clinical and social developments in the field of epilepsy. This program will have a comprehensive range of main, post main and several sessions as well as practical videos and lively debates. We have organized scientific programs to make the congress a platform for exchanging ideas and cutting-edge knowledge from the result of the most recent research and clinical activities. Under the theme of "Epilepsy in Japan, Epilepsy in the world and Epilepsy in the future", the newest researches and studies in the field of epilepsy will be highlighted and discussed.
Yokohama is a beautiful cosmopolitan city. Its skyline is dotted with high-rise buildings and historical places. The city is populated by people with a diverse range of ethnicities, with many different cuisine, cultures and religions. It is a city rich in contrast and color. I am sure that with the excellent program lined up, every participant's intellectual desires would be fully satisfied. You will also appreciate an opportunity of enjoying Yokohama by attending various social programs.
Again, the organizing committee sincerely welcomes you and wishes you a stimulating and enjoyable stay.
Further program details will be announced shortly on the official website.
http://www.c-linkage.co.jp/jes52/
We look forward to welcoming you to Yokohama for what promises to be an epilepsy meeting of excellent quality.
Hitoshi Yamamoto

President, the 52nd Japan Epilepsy Society 2018
Professor and Chief, Department of Pediatrics,
Director, Epilepsy Center,
St. Marianna University School of Medicine

Kenji Sugai

Vice president, the 52nd Japan Epilepsy Society 2018
Director, Epilepsy Center, National Center of Neurology and Psychiatry

Ichiro Takumi

Vice president, the 52nd Japan Epilepsy Society 2018
Associate Professor, Department of Neurosurgery,
Deputy Director, Epilepsy Center,
St. Marianna University School of Medicine