President of the 64th Congress of JSOMS
Tetsu Takahashi DDS, Ph.D.
(Professor, Division of Oral and Maxillofacial Surgery,
Tohoku University Graduate School of Dentistry)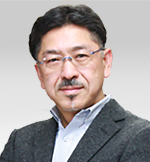 Dear Colleagues and Friends
We are pleased to announce that the 64th Congress of the Japanese Society of Oral and Maxillofacial Surgeons will be held at Sapporo Convention Center in Sapporo from October 25th – 27th, 2019. It is such a great honor and privilege for Tohoku University to host this congress for the very first time, which has a long history and established tradition. We would like to devote ourselves to lead this congress for the success.
The theme for the congress is "Succession From the past, Leading to the Future."
The background to set this theme is that 2019 is a year to start the new Japanese era, and we would like to take this opportunity to think what we can learn from the past and leave legacy for the future.
We would greatly appreciate your understanding of our intention and your generous support for the congress.
Yours Sincerely,
President of the 64rd Congress of JSOMS
Tetsu Takahashi DDS, Ph.D.